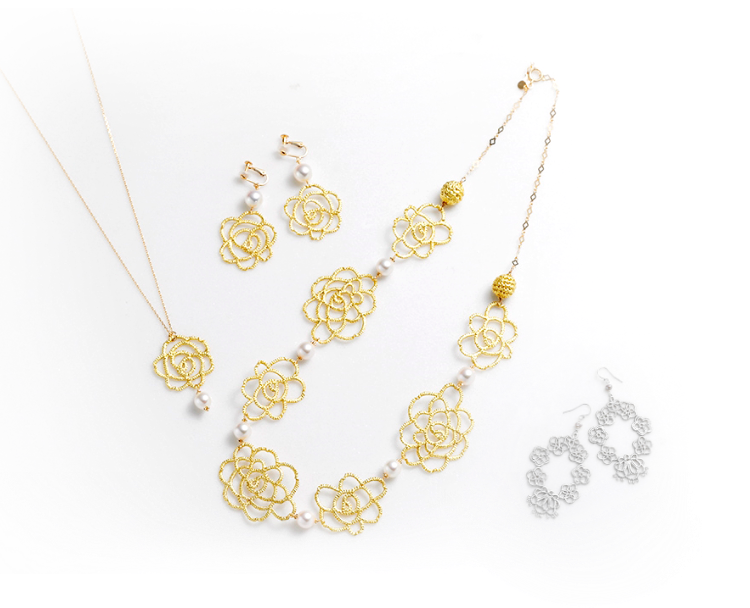 Created under the theme of "Wearing traditional crafts in everyday life".
Gold-Knot is jewelry combined with traditional Kanazawa crafts and European lace techniques.
The 16th century European tatting lace is decorated with Kanazawa-foil, which has a history of more than 400 years.
Two traditional techniques are used in a number of items that gives off delicate glare.
Thread and gold leaf, combination of light materials freed many women jewelries from weight and made it fun to easily wear traditional crafts.
The yarn used for lace knitting is manufactured at a factory in Komatsu City.
Threads made with the techniques of Ishikawa Prefecture, one of Japan's leading textile regions, are knitted into various shapes by the hands of women who love handcrafts.
And, "Kanazawa foil" completes the look of illuminant jewelries.
The luxurious shine is created by carefully layering several sheets of foils.

Main Store Gold-Knot
| | |
| --- | --- |
| Address | 1-4-55 Nagamachi, Kanazawa City, Ishikawa Prefecture 920-0865 |
| Phone | 076-205-6202 |
| Hours | 11:00 a.m-6:00 p.m(shop) |
| Closed | On Tuesday ,2nd Sunday every month. |
| URL | https://gold-knot.com |
| Product range | gold leaf jewerly and accessories, craft |
| By Bus | 5 minute on foot from "Korinbo" bus stop |
| Location | Situated near the ruins of Nagamachi Samurai Residence, you can easily drop by. |
Gold-Knot is certified as "Ishikawa brand certified product" and "Kanazawa kagayaki brand" as new design that makes the best use of local resources.
In Kanazawa, where the Maeda clan, the lord of Kaga domain, promoted arts and crafts, many traditional crafts have been handed down to this day. Kanazawa Foil is one of them.
Gold-Knot, created by a new technique using Kanazawa Foil, has received the above certification from Ishikawa Prefecture and Kanazawa city as excellent products with a lot of novelty and originality.
There are fans all over the country, supported by women who have their own style while valuing traditional Japanese culture.
Overseas, the products are exhibited and available for purchase at the MAD (Museum of Arts and Design) in New York, The Getty Museum in Los Angeles, and the Japanese Garden Museum in Portland, USA.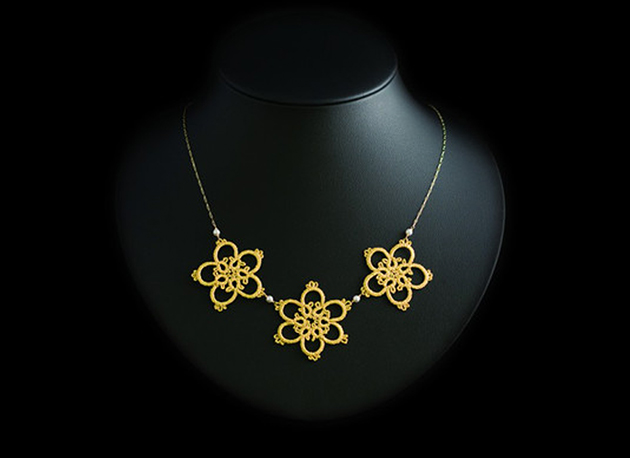 History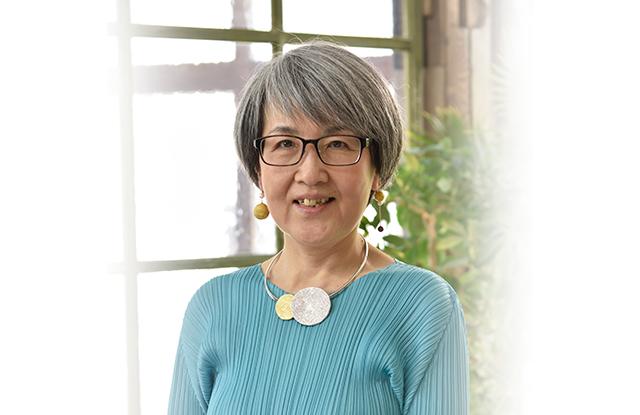 Founder / Designer
Satomi Kiwada
Chief Designer
H2O Corporation
Originally from Himi city, Toyama Prefecture
Experiences:
・Product development for Western tableware manufacturer
・Design company
2008
Established total design company H2O corporation 2010 Received the Outstanding Entrepreneur award at Ishikawa Innovative Start-up Business Plan Competition
2011
Received Ishikawa women pioneer award 2013 Kanazawa Brand certification for craft development and promotion
2014
Gold-Knot Ishikawa Brand products certification Ishikawa Design Exhibition Craft Design category prize
2016
Display at Nihonbashi Mitsukoshi main department store
2017
Accepted to Craft Competition in Takaoka
Independent exhibition titled "Gold-Knot, Glowing Melody" at Isetan Shinjuku Main Department store, Luxury East 4-floor
2019
Exhibit / Sale at Museum of Arts and Design in New York, USA
Exhibit / Sale at The Japanese Garden Museum in Portland, USA
Held a workshop at Wa Salon Paris in Paris, France
2020
Exhibit / Sale at The Getty Museum in Los Angeles, USA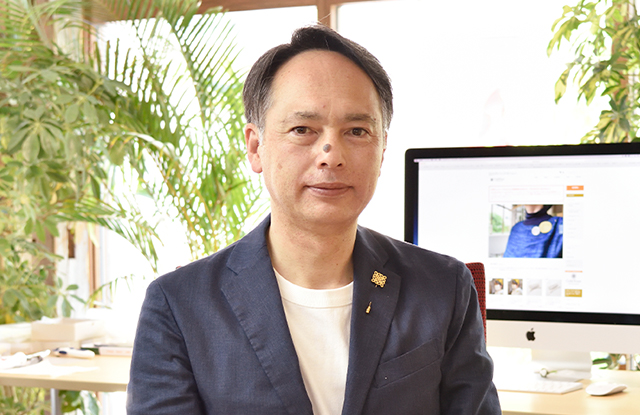 Chief Producer
Shinji Kamoya
Representative Chief Producer at H2O Corporation Originally from Kanazawa city
Graduated from Kansai Gakuin University
Completed WSD training program at Osaka University
After graduating, worked as a newspaper reporter covering issues on social studies, economy, and culture.
Wrote numerous articles on Kanazawa's town development, history and culture.
After becoming independent, as a writer, conducted interviews and published public relations magazines for companies and government
Joined H2O
2008
Joined H2O Corporation
2014 on
Advisor for Ministry of Internal Affairs and Communications Regional Strength Development
2014
Advisor for Ministry of Agriculture, Forestry and Fisheries Hokuriku Agricultural Regional Administration Bureau, Intellectual property excavation and utilization promotion region counsil
Advisor for Fukui Sixth sector industrialization Support Center
2015 – 2016
Coordinator for Kanazawa Dementia Forum
2018 on
Lecturer at Komatsu Citizen's University
Company Information
| | |
| --- | --- |
| Company Name | H2O.Inc. |
| Location | 1-4-55,Nagamachi, Kanazawa City, Ishikawa Prefecture 920-0865,Japan |
| Phone | +81-76-205-6202 Fax +81-76-209-2490 |
| URL | http://h2o-d.jp |
| E-mail | info@h2o-d.jp |
| Established | Sep,2008 |
| Directors | Founder & President,Designer Satomi Kiwada |
| President & Chief Producer | Shinji Kamoya |